Prayer for the Circuit:
We thank you, Lord Jesus, for one another; for the pastoral support and belonging and friendship and fellowship we experience in our local church and in the wider Circuit, as well as with many other people in a variety of contexts.
Deepen our commitment to working with others as an expression of your prayer that your will might be done and your kingdom come on earth as in heaven.
Amen.
NB: You are welcome to send in contributions to this page

Also see Day 22 of the District Prayer Diary for Vale of Aylesbury Circuit
PRAYERS FOR THE CHURCHES
This idea arose from a Circuit Consultation where members said that they would like to see better communications around the Circuit.
It was felt that there was a lot of good work going on within the Circuit but few outside of their particular church ever got to hear about it. In these days when the only news we seem to hear concerning churches is when they are threatened with closure, it is vital that we get to hear the other side as well. One small example of how useful this 'Good News' has been so far is on the subject of our work with young people — Methodism has a wonderful history of work amongst young people. Some of the 'Good News' tell us that there is still good work going on amongst children and young people in many parts of our Circuit — the problem is that we never get to hear about it. It is so encouraging to hear the success stories of Toddler Groups, Youth Groups, Cafe and Messy Church, Drop-in Church — the list is endless and it is growing!
It was recently suggested that these prayers should be expanded to cover other aspects and groups that serve the Circuit or are given Circuit support. Four such topics have been suggested; The leadership Team, our Locals Preachers and regular Visiting Preachers, Fair Trade and the Karibuni Trust; other suggestions would be welcome.
This Sunday 19th August it is the turn of Wingrave to be the focus of our Circuit Prayers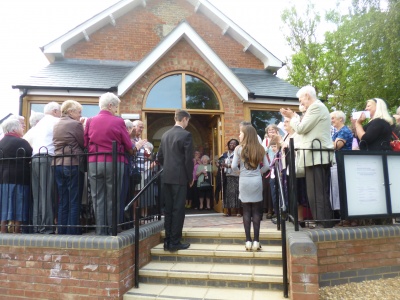 Dear All
Wingrave is a very welcoming and friendly chapel with a wonderful atmosphere and lovely people. The building adds to the welcome, being light and airy, and along with the people there, forms a very pleasant environment that aids meaningful worship. Do try to support the fellowship there whenever you can, and remember them and the work there in your prayers this Sunday.
Pete
John Cotton writes:
"On 10th June we had an LA service at Wingrave. That was the Sunday on which we were asked to focus on "Service", being one of the four "Our Calling" priorities of the Methodist Church. It also happened to be MHA Sunday too. In planning the format of the service that day we decided to pick up on both topics. We drew heavily on the very useful resources on the topic of Service supplied by the Circuit Leadership team. We had a lively and participative service — which went on well beyond the normal hour, without any complaints! Some useful ideas came up, one of which was to run a stall at the Wingrave Village Fete to raise our profile (and specifically to raise funds for MHA). That Fete takes place on Sunday 16th September. Do please remember us in your prayers — and if possible pop by to see our stall. "