Prayer for the Circuit:
We thank you, Lord Jesus, for one another; for the pastoral support and belonging and friendship and fellowship we experience in our local church and in the wider Circuit, as well as with many other people in a variety of contexts.
Deepen our commitment to working with others as an expression of your prayer that your will might be done and your kingdom come on earth as in heaven.
Amen.
NB: You are welcome to send in contributions to this page

Also see Day 22 of the District Prayer Diary for Vale of Aylesbury Circuit
Thy Kingdom Come
The Circuit will be engaged in this exciting initiative from Ascension Day to Pentecost. 10th May-20th May.
This is a ten day prayer initiative and it is hoped that each Church in the Circuit will take part in some way. This may be a whole Church activity or people praying at home or in small groups. It is a chance for each Church to have the opportunity to be creative in their approach to prayer.
A pack of resources has been put together for each Church and there are further exciting resources on the website www.thykingdomcome.global
We encourage each and every one of you to be involved in some way and. if possible, to invite other Churches to take part jointly in prayer.
Two services have already been planned.
All are invited to Share in a Thy Kingdom Come service at Swanbourne on 13th May at 5pm and a
Pentecost Service at Aylesbury on 20th May at 6pm to celebrate all that has been achieved during the ten days.
For further information please contact either Rev Helen Kirk
or Jennie Marriner-Kyle ( j.marrinerkyle@btinternet.com )
We will support you and advertise your events around the Circuit.
What does prayer mean to you?
What can you do to take part?
Please get involved in whatever way you can.
... GO TO the Methodist website and see more information

Prayers for the Churches.
This idea arose from a Circuit Consultation where members said that they would like to see better communications around the Circuit.
It was felt that there was a lot of good work going on within the Circuit but few outside of their particular church ever got to hear about it. In these days when the only news we seem to hear concerning churches is when they are threatened with closure, it is vital that we get to hear the other side as well. One small example of how useful this 'Good News' has been so far is on the subject of our work with young people — Methodism has a wonderful history of work amongst young people. Some of the 'Good News' tell us that there is still good work going on amongst children and young people in many parts of our Circuit — the problem is that we never get to hear about it. It is so encouraging to hear the success stories of Toddler Groups, Youth Groups, Cafe and Messy Church, Drop-in Church — the list is endless and it is growing!
It was recently suggested that these prayers should be expanded to cover other aspects and groups that serve the Circuit or are given Circuit support. Four such topics have been suggested; The leadership Team, our Locals Preachers and regular Visiting Preachers, Fair Trade and the Karibuni Trust; other suggestions would be welcome.
On Sunday 29 April it will be the turn the church in Cheddington to be the focus for our Circuit Prayers.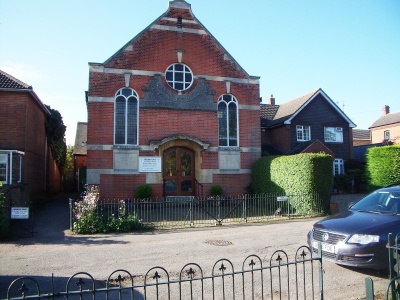 Dear All
Both the church and the people of Cheddington are wonderful ambassadors for Jesus in this place, with a presence in the community that is valued and effective. Please support them wherever you can and remember them in your prayers this Sunday.
Pete
Cathy Craft writes:
Having recently put an item in the circuit magazine, our latest news continues to be the installation of wi fi and our future plans for its use.
Despite having an average age of 80+ and only 11 members we are always looking for opportunities for outreach into the community, generally involving our Anglican friends. Thanks to the generosity of a resident who is an expert in the field of IT, wi fi has recently been installed into the Chapel. This offer of help came about as a result of the welcome and support his family received from the Toast group when they first moved into the village some years ago. The phrase 'Give and ye shall receive' springs to mind. His help has meant that he has offered his services and advice free, which will continue for the next 12 months, knowing that we are planning to use the building to hold regular IT advice groups. In order to man this advice centre some residents are willing to give up their time to help those of us who are not as IT literate as we would like to be. When we are up and running we will combine this IT group with refreshments and will be more than happy for any circuit folk to join us in order to improve their own IT skills.
We continue to feel that we are truly blessed because in this and our other ventures we have the support and advice of our amazing minister and her equally amazing husband and family as well as other members of the circuit.
Cathy