FRIDAY LUNCH -EASTER SPECIAL
Roy Collis
The Friday Lunch Team excelled themselves with this EASTER SPECIAL which included an EASTER BONNET Competition which was judged in a totally subjective way by Rev Keith Edwards — murmurs of 'We was robbed!' (good natured of course) could be heard.

As always the lunch was well supported by the local community and they scooped the valuable prize of a chocolate Easter Bunny!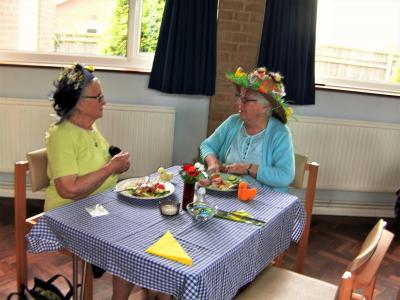 The lunch menu was a Tuna or Ham Salad followed by a Hot Cross Bun and tea or coffee and was excellent value at only £3.00
As can be seen from the pictures a good number displayed suitable headgear, not all could be described as bonnets but some were impressive creations and as the last pictures shows the rear view was not neglected.
Charles and his team are to be congratulated for their efforts — what will they think of next?
Photos by courtesy of Keith and Roy — (you can enlarge them by clicking on them if you are prepared for a shock!)
You may also be interested in