Webteam:
August 2017
Circuit Caravan and Camping Weekend 2017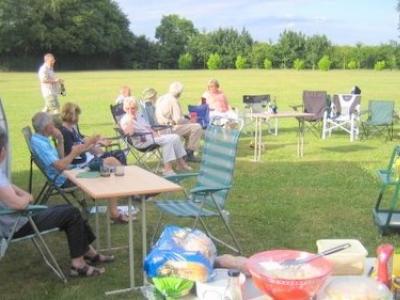 Due to the success of last year's event and many requests to go again this year 13 units including 26 adults and four children from 5 different churches attended the weekend at Anita's Camping site near Banbury.
As can be seen from the photograph we had a rally field to ourselves and were able to appreciate the wonderful country side. As we had perfect weather we were able to fully enjoy all the planned activities.

The main event began on Friday evening with a supper of jacket potatoes with a variety of fillings and accompaniments and a range of deserts. On Saturday there was an opportunity to visit two National Trust properties one of which was a pleasant walk from the site.
In the evening a communal barbecue was enjoyed by all. As always in such events the shared food was magnificent as was the fun and fellowship we shared throughout the weekend.
On Sunday morning we were delighted that we were joined by five adults and four children from the camp site at our outdoor service. It was a really joyful occasion and our thanks as always go to Pete and Jane Honeyball for their musical accompaniment and to Helen for her inspiring message.
We were able to book a marque at a pub beside the canal where many of the campers were able to enjoy further fellowship over Sunday lunch.
You may also be interested in