Prayer for the Circuit:
We thank you, Lord Jesus, for one another; for the pastoral support and belonging and friendship and fellowship we experience in our local church and in the wider Circuit, as well as with many other people in a variety of contexts.
Deepen our commitment to working with others as an expression of your prayer that your will might be done and your kingdom come on earth as in heaven.
Amen.
NB: You are welcome to send in contributions to this page
Also see Day 22 of the District Prayer Diary for Vale of Aylesbury Circuit
PRAYERS FOR THE CHURCHES
This idea arose from a Circuit Consultation where members said that they would like to see better communications around the Circuit.
It was felt that there was a lot of good work going on within the Circuit but few outside of their particular church ever got to hear about it. In these days when the only news we seem to hear concerning churches is when they are threatened with closure, it is vital that we get to hear the other side as well. One small example of how useful this 'Good News' has been so far is on the subject of our work with young people — Methodism has a wonderful history of work amongst young people. Some of the 'Good News' tell us that there is still good work going on amongst children and young people in many parts of our Circuit — the problem is that we never get to hear about it. It is so encouraging to hear the success stories of Toddler Groups, Youth Groups, Cafe and Messy Church, Drop-in Church — the list is endless and it is growing!
It was recently suggested that these prayers should be expanded to cover other aspects and groups that serve the Circuit or are given Circuit support. Four such topics have been suggested; The leadership Team, our Locals Preachers and regular Visiting Preachers, Fair Trade, Karibuni Children and a recent addition, Young People; other suggestions would be welcome.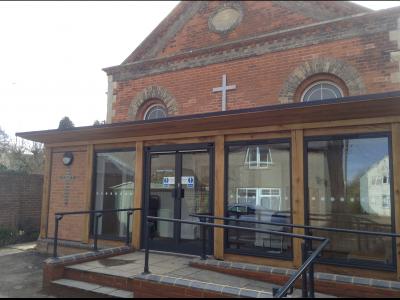 This Sunday 25 August, it is the turn of Chinnor to be the focus of our Circuit Prayers
Dear All,
There is always something going on at this chapel. From Sunday services to midweek meetings there is something here for everyone. You will be made most welcome if you would like to join us at any time. Please remember the work and the fellowship here in your prayers this Sunday.
Pete
Cathy writes:
If you are one of the people who've wondered quite where Chinnor Methodist church is tucked away, then fret no more. We now have a lovely pair of oak posts with clear aluminium lettering so that the church's 'street presence' is much more evident. This is just about the final bit of the building project that has been going on for the past four years, and in planning for much longer. To make the church more noticeable to the village is also part of our growth plan.
Another part of the growth plan is the Tots and Toast weekly toddler group which began at Easter. The worship space and the two back rooms are all in use and filled with craft activities and toys for babies and toddlers. Liz Thorpe is the driving force behind this new group, assisted by a rota group of church friends. Since its beginning it has been a great success and mums say they love the welcoming atmosphere of the group, the people and the place.
Table tennis for the over 60s is also a thriving group, to the extent there is a waiting list. This is another community use for our new versatile main space.
And finally, our last piece of Good News is that Chinnor Methodist Church celebrated a wedding recently. This isn't the first, but it is the first for fifteen years, so it was a bit of a big thing. Stewards and church members planned ahead and worked hard to make the church look absolutely lovely for the occasion, and there was a general invitation to all the congregation. The church was packed and the rafters raised with three hymns and Marjorie Holliday's superb organ playing. A memorable day.
Cathy