Prayer for the Circuit:
We thank you, Lord Jesus, for one another; for the pastoral support and belonging and friendship and fellowship we experience in our local church and in the wider Circuit, as well as with many other people in a variety of contexts.
Deepen our commitment to working with others as an expression of your prayer that your will might be done and your kingdom come on earth as in heaven.
Amen.
NB: You are welcome to send in contributions to this page
Advent Prayer

Prayer of approach, longing and confession for the Advent season.
God, with us,
As we enter this season of longing and waiting,
bear with us a little longer;
R: be patient with our impatience.
You have journeyed alongside us from the beginning of time,
R: yet still we miss the signs of your presence.
When we are blinded by the brashness of this season:
R: Open our eyes to the glimpses of your glory.
When we want simple answers:
R: Open our minds to the hints of incarnation.
When we are deafened by our own shouting:
R: Open our ears to the whispers of your grace.
May we share with you in longing for restoration and renewal
and may we be watchful for the light that breaks through
the darkness of our world.
R: In Christ's name. Amen
God says 'Be patient, watch and wait,
for the time is close at hand.'
Know that you are loved, forgiven and healed.
R: Amen. Thanks be to God.
The Revd Michaela Youngson, President of the Methodist Conference
Also see Day 22 of the District Prayer Diary for Vale of Aylesbury Circuit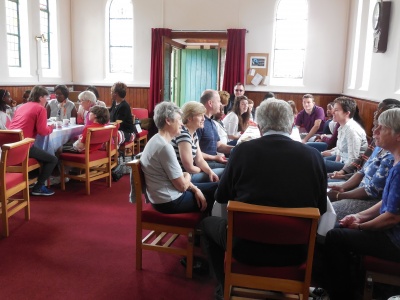 PRAYERS FOR THE CHURCHES
This idea arose from a Circuit Consultation where members said that they would like to see better communications around the Circuit.
It was felt that there was a lot of good work going on within the Circuit but few outside of their particular church ever got to hear about it. In these days when the only news we seem to hear concerning churches is when they are threatened with closure, it is vital that we get to hear the other side as well. One small example of how useful this 'Good News' has been so far is on the subject of our work with young people — Methodism has a wonderful history of work amongst young people. Some of the 'Good News' tell us that there is still good work going on amongst children and young people in many parts of our Circuit — the problem is that we never get to hear about it. It is so encouraging to hear the success stories of Toddler Groups, Youth Groups, Cafe and Messy Church, Drop-in Church — the list is endless and it is growing!
It was recently suggested that these prayers should be expanded to cover other aspects and groups that serve the Circuit or are given Circuit support. Four such topics have been suggested; The leadership Team, our Locals Preachers and regular Visiting Preachers, Fair Trade and the Karibuni Trust; other suggestions would be welcome.

This Sunday 16 December it is the turn of Swanbourne to be the focus of our Circuit Prayers.
Dear All
Swanbourne is a lovely village chapel and there is a wonderful photograph on the Net of the "Harvest Festival in the 'Primitive Methodist Chapel' in 1908" (Link below). The building projects the same well-loved and cared-for appearance today as it did then — do come along on a Sunday where you are sure to get a warm welcome and please pray for the people and the work there this Sunday. Service details are on the website.
Pete
Ken writes:
We are in good heart at Swanbourne Chapel. We have been working on our 5-year plan for growth, and are carrying out a consultation with our congregation and Sunday School members. We are already identifying folk in the village who might be encouraged to share in the worship of God with us, and this has already met with some success, as we have have had several new local people joining in our evening service. Our recent Christingle service saw a full chapel, with an age range from a few weeks to the mid-70s. We have also valued the presence and support of members from other chapels who have joined us for our evening services — with over 100 people having participated in services here since July.
The chapel has also seen a major development in that over the last few months, it has frequently been used during the week for training First Responders and First Aiders by a couple living in the village, whose socially-useful business is drawing trainees from across the country.
We ask you to pray particularly for our last service of the year on 30th December, when, alongside our worship of God, we hope to use our Local Arrangement as an opportunity to draw the results of our consultation into a plan for the future.
Frankie and Ken