A fantastic transformation has taken place in the Church.
Do come and share it with us.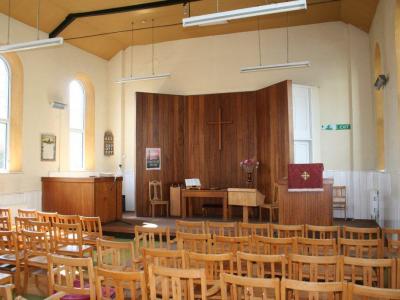 The pictures in the CHINNOR REFURBISHMENT gallery show what the old style building looked like and pictures depicting the work in progress to where we are now.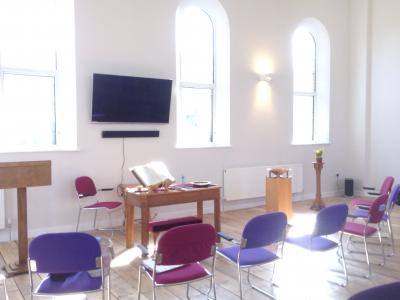 Services are always followed by coffee/tea and a chance to buy from Rod Thorpe's Traidcraft Stall, as well as a selection of fruit and vegetables from the Charity Table.
On the last Sunday in the month, however, we start with coffee/tea, then have a fairly informal service (usually with our band) and finish up with a bring and share lunch.
We are delighted that the refurbishment of the chapel is complete.
The intention of the architects was to make an area that looked renewed and bright but kept the essentials of the historical building. The last item to be completed was the handrail for the new disabled access ramp. We now have level parking in front of the building, with a choice either of steps or a gradual ramp to the new automatic doors.
We would like to express our thanks to Tom Chamlet and his building team who completed the job ahead of schedule and with unflappable good humour. It is a crowning touch that, having six foundation stones with the Croxford name, the latest generation of the family laid the screed in the porch.
WE OFFER A VERY WARM WELCOME TO EVERYONE TO OUR SERVICES AND OTHER ACTIVITIES