STOKE HAMMOND-- WEDNESDAY COFFEE MORNINGS
On December 1st. 1993, we held our first coffee morning at Stoke Hammond Methodist Chapel.
We had decided to hold weekly coffee mornings on a Wednesday to make regular use of our new kitchen, Vestry, and toilet extension. We chose not to charge a set price, but to put a bowl on the table for people to make a donation ~ we still have the same arrangement today. On that first occasion, 15 people came and as it was close to Christmas we had mince pies to go with the tea and coffee.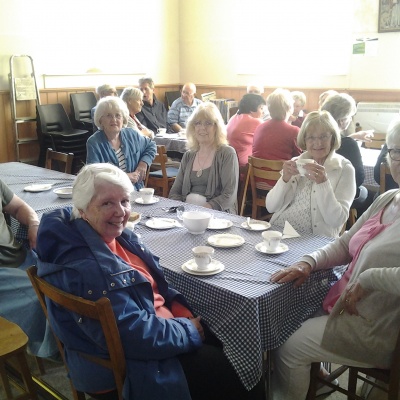 We drew up a cake rota, and now several ladies take turns to provide delicious home-made cakes or savouries.
The first week's donations amounted to £6.35p, and although that seems a very modest amount, the money collected over the years paid for a replacement pipe organ for the chapel, which two of the founder coffee morning members play at Sunday Services, and now supplements chapel funds. We average about 20 people each week, but on a recent occasion there were 29 present.
Having put pen to paper I could almost write a book about what goes on at the coffee morning. It is such a happy place to be, and just like a family -- only we don't squabble! Despite the fact that the Chapel has now closed, the Coffee Morning will continue.
IT WAS SAD TO SAY GOODBYE TO A MUCH LOVED CHAPEL but we were happy to join Stewkley who have made us very welcome.
However the COFFEE MORNINGS WILL CONTINUE AT THE local SPORTS CLUB, .
DO CALL IN IF YOU ARE OUT THIS WAY on a WEDNESDAY between 10.30 and 12.00 noon.