LETTER TO THE CIRCUIT

Rev Helen Kirk
If you go into any Methodist church in the country during October you will see someone counting. They are not counting sheep in order to get to sleep (one of my sermons is usually enough!) but the number of people in attendance during the month of October. These figures are then fed into a Connexional database and a statistical report is produced for Methodist Conference in June to discuss the state of the Methodist Church..........(I can feel you nodding off already!)
However, year on year it does not make good reading as the figures show a steady decline in the numbers attending the Methodist church.
This year, instead of just reporting it, the conference has decided to do something about it and so requires every Methodist church in the country to produce a plan for the future. This plan may be about how the church aims to grow; how we measure our fruitfulness or effectiveness in the community; it may be about the need to let go and allow some things to 'die' so that resurrection may be possible.
However it must be a plan. It cannot just be a wish list of all the things we want our churches to be nor a fatalistic 'what's the point?' The process expects every church to be realistic about its future; to have a vision for their existence and to devise strategies and take risks to enable this to come about. The plan doesn't have to be huge but it does need to be thought through.
To aid the process the circuit leadership team is aiming to provide resources in the New Year to enable us all to comply with Methodist policy.
However I would like to add a note of hope: at a recent meeting of the District Superintendents we were invited to spend time examining the statistics and we noticed an anomaly. Amidst all the years of decline there was a spike of growth; one year which bucked all the trends, not just in one place but across the whole country. What could have happened in that year that made people come to church? We searched through archives of news looking for an answer and then someone spotted a connection — the one year the church grew coincided with the year of prayer that the Methodist Youth conference initiated in 2005. Coincidence? Maybe........but maybe a reminder that God still has a plan for us. As the president of Conference Lorraine Mellor said: 'I know I am part at present of a declining Church, but I am not part of a declining gospel. The gospel of Jesus Christ is here to stay, but has the time not come for us to be radical to take some risks in order that we can grow? Because you see, perhaps in my naivety I don't believe that God is done with us just yet'
Perhaps in 2018 the challenge is to prayerfully seek God's vision for our communities; to realise that he is at work in many different places both within and beyond the church, and to be willing to trust him with the future even if that involves a risk to that we have valued in the past.
Helen
'Called by Christ to be disciples
Every day in every place,
We are not to hide as hermits
But to spread the way of grace;
Citizens of heaven's kingdom,
Though this world is where we live,
As we serve a faithful Master,
Faithful service may we give.'
Martin Leckebusch Singing the Faith 660
2018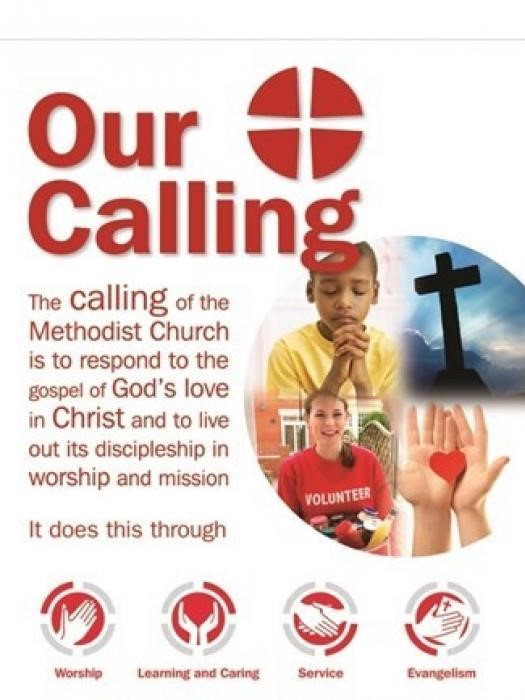 It can be hard to discern what we are called to as individuals, but do we have a calling as God's people, the church? In recent weeks, across the circuit, we have gained from following themed services based on the Our calling priorities of the church. This has enabled us to refocus on all we are called to be as the Methodist church in this place. As a church we are called to worship -- not just to 'going through the motions' on a Sunday but to commune with God and each other; to make deep connections of heart and mind that inspire our life and transform our choices.
We are called to nurture faith, to value experiences of learning and to offer opportunities for people to explore and grow their faith. We are called to support those most in need in our communities and to work for justice in our world. And finally, we are called to share the story of our faith with those around us.
Helen — July 2018