Webteam:
May 2018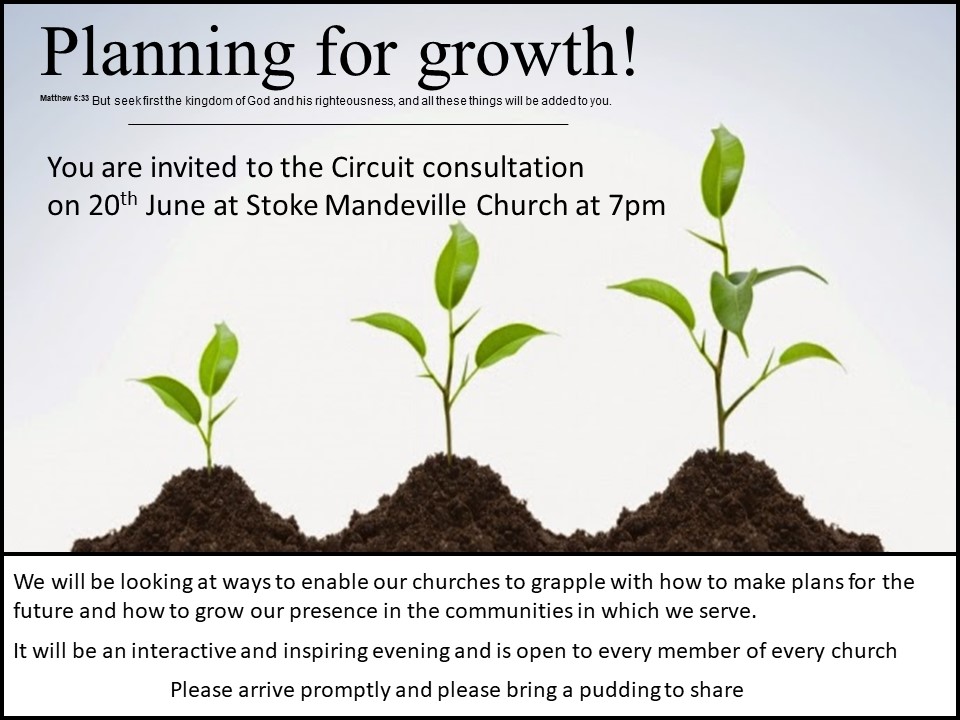 A big thank you 74 times!
Our Circuit Consultation on Wednesday evening at Stoke Mandeville was amazing. The atmosphere was predominantly positive and very encouraging. We almost achieved our objective of running out of chairs and the space to put them — it was wonderful — thank you so much to the seventy four (74!) people who turned up.
The puddings were fantastic, the participation was just what Donna, Keith and myself had hoped for and the comments and feedback from everyone have been recorded. These will be used to inform the preparation for our 'Plans for Growth' throughout the circuit.
A big thank you also to our friends at Stoke Mandeville who offered us such warm hospitality, providing endless tea and coffee (and doing so much washing up afterwards!) — we do appreciate it!
More information will follow, but in the meantime please give some thought to the subjects that we discussed on Wednesday, and try to see how you can begin to implement some radical new ideas in your church.
Best wishes
Pete
Over the four preceding Sundays the focus of our worship had been on the Our Calling Priorities of the Methodist Church. Some of the questions below may remind you of the discussions at the meeting
The theme for the first Sunday was WORSHIP
The Church exists to increase awareness of God's presence and to celebrate God's love
---What helps us to centre our worship on God?
--Where and when do we feel the presence of God? How can these experiences enrich services of worship?
--What motivates us to study the Bible?
--What helps us to express awe and wonder, thankfulness and praise, and love towards God? How can we use resources from the worldwide Church?
--What would help our worship to make sense to people who come only occasionally?
--Can we improve the comfort and decor of our surroundings and the welcome for people with disabilities?
--Is our worship much the same all the time? Should we explore styles and traditions of worship from other denominations and other parts of the world?
-What are our plans and targets for improving our worship over the next year?

The theme for the second Sunday was LEARNING & CARING
The Church exists to help people to grow and learn as Christians, through mutual support and care

-What church activities help us most to deepen our faith in God?
How effective are our small groups, in linking faith to everyday life?
How do we learn about the challenges of Christian life today from churches elsewhere in Britain and the wider world?
Are there peripheral activities we should stop, to make time for our training and learning needs?
What activities make it easy for others to join us? What links do we have with groups using our premises?
What do we expect from our pastors? What do we expect from one another by way of support and care? Do we notice or care about those who drift away or leave?
What are our plans and targets for developing our life together over the next year?

The Theme for last week was SERVICE
The Church exists to be a good neighbour to people in need and to challenge injustice
How do we discover the needs in our community and respond to them?
Who is involved in service to the community through charities or community groups?
Are there opportunities for more of us to become involved?
How do we give attention to the moral issues raised by daily work?
Do we share with one another our concerns about things which do not seem right, or cause
trouble in our community, or appear unjust? How do we challenge injustice in other parts of the world?
Are we making the best use of our premises and our money for service to the community?
Are we wasting resources? Are we spending our time and resources in ways which are consistent with our beliefs and values?
How does the life of our community, and our involvement in it, feature in the prayers of the church?
What are our plans and targets for improving our community involvement over the next year?

The final Sunday in our countdown the focused on Evangelism:
'The church exists to make more followers of Jesus Christ'.
The calling of the Methodist Church is to respond to the gospel of God's love in Christ and to live out its discipleship in worship and mission.
-How do we develop friendly attitudes towards everyone we meet?
-Do we have a clear message? Are the words we use straightforward and meaningful to those outside the Church?
-What attracts others to the Christian faith? Are there initiatives we could take to present our convictions?
-Can we do this with Christians of other denominations? Where should the focus be — on church premises, or in the community?
-How can we learn about effective witness from Christians in other cultures?
-What can we do to make our premises more welcoming?
-Should we consider planting a new congregation in this locality?
-What are our plans and targets for making more followers of Jesus Christ over the next year?One way it does this is through Evangelism.
Listen to what John Wesley had to say on evangelism ....
"The world is my parish" (in response to the bishop of Bristol who objected to his preaching as it "disrupted" local Anglican services)
"You have nothing to do but to save souls. Therefore, spend and be spent in this work. And go not only to those that need you, but to those that need you most. It is not your business to preach so many times, and to take care of this or that society; but to save as many souls as you can; to bring as many sinners as you possibly can to repentance."
"It is no marvel that the devil does not love field preaching! Neither do I; I love a commodious room, a soft cushion, a handsome pulpit. But where is my zeal if I do not trample all these underfoot in order to save one more soul?"
"Give me one hundred preachers who fear nothing but sin and desire nothing but God, and I care not whether they be clergymen or laymen, they alone will shake the gates of Hell and set up the kingdom of Heaven upon Earth."
Every single one of us is an evangelist!
You may also be interested in