Prayer for the Circuit:
We thank you, Lord Jesus, for one another; for the pastoral support and belonging and friendship and fellowship we experience in our local church and in the wider Circuit, as well as with many other people in a variety of contexts.
Deepen our commitment to working with others as an expression of your prayer that your will might be done and your kingdom come on earth as in heaven.
Amen.
NB: You are welcome to send in contributions to this page
Prayers of Intercession and Blessing
In these uncertain times, dear Lord, we pray for peace.
We hold before you all those who are putting others before themselves.
We pray for those who are worried about their financial situation, not knowing how they will cope in the coming weeks.
We pray for the people and situations close to our heart...
We hold before you the governments and leaders of the world, those making many difficult decisions...
So in these uncertain times may we reach out to support each other, our families, our friends, our neighbours.
May we speak using words of grace and comfort.
May we reflect your love for all of creation
And may we be a reassurance and a blessing to all we speak to this week.
And may the blessing of God, Father, Son and Holy Spirit be with you this day and forever more. Amen
District Prayer Diary
Due to the current pandemic and in an effort to save waste, the District Prayer Diary has been distributed electronically this year.
You can download and print copies from this page, but printing of hard copies can be arranged.
Please let Pete Honeyball know if you would like printed copies in booklet form, and if so, whether A4 or A5?
Prayers for the Churches and other Circuit groups.
This idea arose from a Circuit Consultation where members said that they would like to see better communications around the Circuit. It was felt that there was a lot of good work going on within the Circuit but few outside of their particular church ever got to hear about it. In these days when the only news we seem to hear concerning churches is when they are threatened with closure, it is vital that we get to hear the other side as well. One small example of how useful this 'Good News' has been so far is on the subject of our work with young people – Methodism has a wonderful history of work amongst young people. Some of the 'Good News' tell us that there is still good work going on amongst children and young people in many parts of our Circuit – the problem is that we never get to hear about it. It is so encouraging to hear the success stories of Toddler Groups, Youth Groups, Cafe and Messy Church, Drop-in Church – the list is endless and it is growing!
It was recently suggested that these prayers should be expanded to cover other aspects and groups that serve the Circuit or are given Circuit support. Four such topics have been suggested; The leadership Team, our Locals Preachers and regular Visiting Preachers, Fair Trade, Karibuni Children and a recent addition, Young People; other suggestions would be welcome.
This Sunday, 23 January, the focus of our Circuit Prayers is Aylesbury.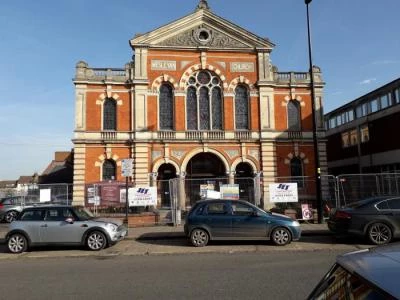 Dear All
After the strains and tensions of the last two years it is thrilling to hear Elaine's positive message below, where she tells us that most activities of this church are returned to near normal again. We have been waiting for so long to hear those words, but we still need to be very careful. Covid may be showing signs of being on the way out, but we have been here before. We need to be patient for just a little while longer, and remember that many of our number still feel unsettled in large gatherings. Please take Elaine's words to heart, and pray for the fellowship here this Sunday.
Pete
Elaine writes:
Aylesbury church is now almost back to pre-pandemic status though there are still a few people anxious about returning to a crowded church.
We were able to hold most of our Christmas services this year with only the Christingle service having to be cancelled as it was felt to be difficult to comply with Covid safety regulations with such a mix of young members, especially with the more virulent strain of Covid we have had recently.
Most other aspects of our church and community centre including Girls' Brigade, Boys' Brigade and Sunbeams (Mums, Babies & Toddlers) are returned, able to comply with Covid safety rules and doing well, with just a few groups still using virtual meetings to stay in touch.
Our 'Welcome Space' Coffee Bar is open Monday, Wednesday, and Saturday mornings ready to welcome all for a hot drink, cake, and a chat.
Please join with us in prayer for those members still suffering the feelings of isolation and anxiousness that has been brought about by the pandemic we have had to live with these past two years. Please also join in our prayers of thanks for the many kinds of support we have all received from our church family throughout the circuit, during this time.
Many Thanks
Elaine