#REGULAR ACTIVITIES
Monthly 1st. Monday Friendship Club especially for the Over 50s meeting at 2.30 – 4.30 pm. This is very much a social get together and anyone is welcome.
FUND RAISING: Many thanks to those who have contributed in any way to our fundraising which has paid for essential repairs to the church roof.
We are continuing to raise funds for further repairs and upkeep of both the church and the hall.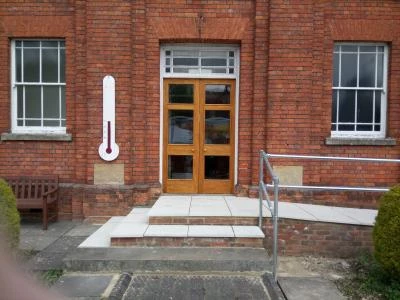 - our last project was to replace the front doors of the church.
Our popular lunches and sales continue on the following dates through 2018.
Tuesday Light Lunches Every Two Weeks – from 11.00 am. to 2.00 pm.
normally on the 2nd. & 4th. Tuesday in the month ...SEE
Saturday Table Top Sales (£5 per table) with Lunches and Tombola
from 10.00 am. to 4.00 pm.
The School Hall is one of the oldest buildings still in use in the Circuit, originally the chapel it was replaced by the current chapel in 1877, so it has a long history of serving the community. We are improving the facilities so it can continue to be a valuable resource for the church and village community.

Other Groups that regularly use our premises.
Monday (Term time only)
Brownies from 6.00 to 7.30 pm. Mrs R. Evans 01296 651559
Guides from 7.30 to 9.00 pm. Mrs S. Evans 01296 655381
3rd Tuesday of every month
Waddesdon Ladies Club meet 7-9.30pm
Contact Jenny Marriott 01296 658707
Wednesday evenings, 7.30 to 9.00pm, Methodist Church Hall, Waddesdon
Community Choirs – open to all
Thursday (Term time only)
Dance classes Claydons Academy from 1.45 to 2.15pm & 3.45 to 6.00 pm
Miss Sharon Collison 07702 063900